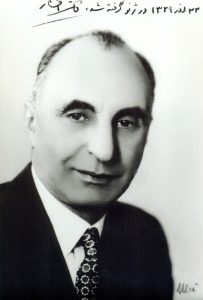 The Afshar Literary Awards was founded in 1989 by Dr Mahmoud Afshar Yazdi Charitable Trust to commemorate the most eminent poets, writers, scholars and researchers on Persian literature and culture.
Dr Mahmoud Afshar Yazdi was an Iranian poet, writer, journalist, Iranologist and statesman. He was born to a renowned cultural family in Yazd in 1893 (his father, Haj Mohammad-Sadeq Afshar Yazdi was the grandson of a revered poet and eminent courtier of Shah Tahmasb) and passed away in 1983, aged 90, in Tehran.  Afshar studied in Iran, India and Switzerland, and obtained his doctorate in political science in 1919 at the University of Lausanne. Two years later, he returned to Iran where he became a pioneer of the pan-Iranian movement. As a young man, he had actively participated in the "Young Iranian Society" (Anjoman-e Iran-e Javan), which brought together a group of nationalist Iranians, most of whom had been trained in European universities. In 1925, he founded the Ayandeh (Future) Cultural Magazine, as well as several scientific and cultural institutions in the country, including the School of Business (Madrese-ye Tejarat) in Tehran.
Mahmoud Afshar Yazdi was acquainted with reputable men of letters such as Taghizadeh, Allameh Mohammad Qazvini, and Mohammad-Ali Jamalzadeh. He was married to Nosrat Barazandeh and is the father of Iranologist Iraj Afshar. Nowadays many cultural buildings and institutions in Tehran, such as Dr Afshar's Trust Library and Ayandeh Magazine Headquarters are reminiscent of Dr Afshar's devoted services to Iranian literature and culture.
The Afshar Award
The award is annually granted to a literary scholar or writer whose oeuvre, written in Persian or other languages, has proved to serve the national unification of Iran. Every October the designation board, usually composed of five or six experts, nominates an eminent scholar for their achievements and cultural services to grant them the Afshar Literary Award. This prestigious award is usually an Iranian handicraft – an exquisite Persian silk rug with the name of the award's receiver woven on the margin and the Afshar Award's logo at the center.
---
Receivers of Afshar Literary Awards
27th Edition (2020/1399 H.) : Dr Mohammadreza Bateni (1935-2021) – Iranian linguist, writer and translator.
26th Edition (2019/1398 H.) : Dr Yoshifusa Seki – Japanese Iranologist and professor of Tokai University.
25th Edition (2018/1397 H.) : Dr Ali-Ashraf Sadeghi (b. 1941) – Iranian linguist and emeritus professor of linguistics at the University of Tehran, known for his expertise on Persian grammar.
24th Edition(2017/1396 H.) : Professor Gilbert Lazard (1920 – 2018) – French linguist and Iranologist.
23rd Edition (2016/1395 H.) : Houshang Ebtehaj (b. 1918) – Iranian poet and orator, , whose life and work spans many of Iran's political, cultural and literary upheavals.
22nd Edition (2015/1394 H.) : Dr Mohammad-Ali Movahed (b. 1923) – Iranian poet, historian and scholar.
21st Edition (2014/1393 H.) : Ahmad Eghtedari (1925 – 2019) – teacher, lawyer, writer, historian, geographer, and a prominent scholar in Persian Gulf studies.
20th Edition (2013/1392 H.) : Angelo Michele Piemontese – Emeritus Professor of Persian language and literature at Sapienza University of Rome.
19th Edition (2012/1391 H.) : Ahmad Monzavi (1925 – 2015) – Iranian writer and scholar of Islamic Studies. He was the director of the Manuscripts Catalogue of the Library of the Centre for the Great Encyclopaedia Islamica.
18th Edition (2011/1390 H.) : Bert G. Fragner (b. 1941) – Austrian Iranologist, professor of Persian, and director of the Institute of Iranian Studies of the Austrian Academy of Sciences since 2003.
17th Edition (2010/1389 H.) : Badrozaman Gharib (1929 – 2020) – Iranian scholar, linguist, and an expert in old Sogdi Language.
16th Edition (2009/1388 H.) : Charles-Henri de Fouchécour – French scholar and Iranologist, a translator of Divan of Hafiz and the articles of Shams-I Tabrizi.
15th Edition (2008/1387 H.) : Najib Mayel Heravi (b. 1940) – Afghan scholar of Persian literature and mysticism.
14th Edition (2007/1386 H.) : Johannes Thomas Pieter (Hans) de Bruijn (b. 1931) – Emeritus professor of Persian literature at Leiden University, the Netherlands.
13th Edition (2006/1385 H.) : Richard Nelson Frye (1920 – 2014) – American scholar of Iranian and Central Asian Studies, and Aga Khan Professor Emeritus of Iranian Studies at Harvard University, with expertise on Iranian philology and history.
12th Edition (2005/1384 H.) : Dr Tsuneo Kuroyanagi (1925 – 2014) – Japanese lexicographer and scholar of Persian language and literature.
11th Edition (2004/1383 H.) : Fereydoon Moshiri (1926 – 2000) – Prominent contemporary Persian poets who wrote poems in both modern and classic styles of the Persian poetry.
10th Edition (2003/1382 H.) : Dr Abdolhossein Zarrinkoob (1923 – 1999) – Scholar and professor of Iranian literature, history of literature, Persian culture and history at the University of Tehran.
9th Edition (2002/1381 H.) : Clifford Edmund Bosworth (1928 – 2015) – English historian and Orientalist, born in Sheffield, specializing in Arabic and Iranian studies.
8th Edition (2001/1380 H.) : Dr Manouchehr Sotoudeh (1913 – 2016) – Iranian geographer, professor, and scholar of Persian literature, Iranian author of the first dialectal dictionary.
7th Edition (2000/1379 H.) : Kamaleddin Eyni (1928 – 2010) – Born in Samarkand; Tajik orientalist and scholar of classic Persian literature and history.
6th Edition (1999/1378 H.) : John Hunnin (b. 1935) – Chinese scholar and professor of Persian at the University of Beijing.
5th Edition (1998/1377 H.) : Dr Zohureddin Ahmed (1913 – 2014) – Pakistani scholar of Persian at Punjab University of Lahore.
4th Edition (1992/1371 H.) : Mohammad Dabirsiaghi (1920 – 2018) – Iranian poet and scholar of Persian literature; co-author of Ali Akbar Dehkhoda's Grand Dictionary of Persian Language.
3rd Edition (1991/1370 H.) : Dr Amin Abdelmajid Badawi – Egyptian scholar of Persian Literature.
2nd Edition (1990/1369 H.) : Dr Gholamhossein Yousefi (1928-1990) – Iranian scholar, writer, and professor of Persian literature at Ferdowsi University of Mashhad.
1st Edition (1989/1368 H.) : Dr Nazir Ahmed (1915 – 2008) Indian scholar, writer and teacher of Persian language and Literature at Aligarh Muslim University.