I. The 13th Golshiri Award Wraps Up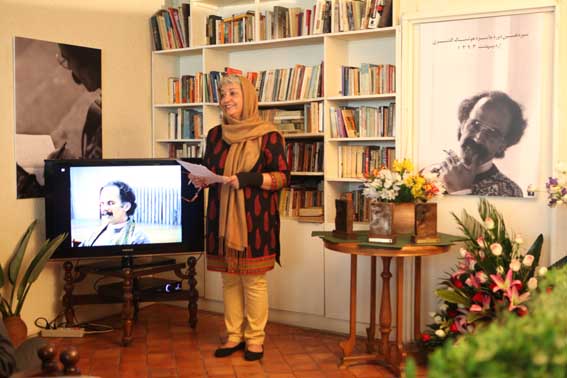 In Friday evening April 25, 2014, the concluding ceremony of Houshang Golshiri Literary Award was held, during which Goli Taraghi was lauded as special guest and superior contemporary story writer.
Elaborating on the difficulties and obstacles of holding a private literary ward in Iran, founder Farzaneh Taheri (wife of late Houshang Golshiri) presented a report of the 13th edition of the award, jurors, and nominees.
Then writer Mehdi Rabbi declared the final decision of the jury consisting of veteran writers and critics Ali Khodaei, Helen Oliaeinia, Farhad Keshvari, Shapour Behyan and Mehdi Rabbi, announcing Mohsen Abbasi author of In Twilight, as thIis
  year's winner.
II. Tar Virtuoso Mohammadreza Lotfi Passes Away
Tar and setar virtuoso Mohammadreza Lotfi, who had collaborated with prominent Iranian vocalists Mohammadreza Shajarian and Shahram Nazeri, died of cancer at Tehran's Pars Hospital on Friday at the age of 68.
Lotfi, Shajarian, and Nasser Farhang came together at the Art Celebration in Shiraz in 1976 and their joint performances were warmly received at the event; this made the fist success and fame of the young virtuoso.Shortly afterward, he established the Sheida band along with tar virtuoso Hossein Alizadeh and a number of other musicians to remake some works by Iranian music luminaries. The following four decades witnessed Lotfi's nonstop activities as player, founder of the Sheida group, the Chavosh ensemble, and performer in various concerts across Asia, Europe, and North America in this new stage of his life.
III. Translation Granted a Hall in TIBF27
During the 27th Tehran International Book Fair, held from April 30 to May 10 in the Grand Mosalla of Imam Khomeini in Tehran, Translation was appointed a hall with specific goals to pursue all year round. The Hall of Translation is a new department of Tehran International Book Fair, IBNA reports. As coordinated with Iran's Book House, six foreign thinkers and authors from Italy, India, Spain and Syria have been invited to attend the programs of the Translation Hall.
Emphasizing on reverse translation movement to propagate Iranian culture throughout the world, 5000 translated books have been displayed at the translation Hall. They cover various issues including literature, religion, philosophy, art, etc. in different languages including French, Japanese, Albanian, Urdo, English, Italian, and Portuguese.